When you have no mouse, how to enable your laptop's touchpad virtual scrolling so that you can scrolling left navigation by using touchpad?
Problem/Cases:
In the GIF below, can see there is no scroll bar for the navigation drawer, if you are using touchpad without enabled virtual scrolling then you may not able to scroll and navigate.
Expected Outcome:
After enabled touchpad virtual scrolling, you can scroll the navigation drawer by using touchpad, see the below GIF.
Please refer the below articles for how to enable touchpad virtual scrolling:
Description:
This article provides assistance with virtual scrolling (horizontal scrolling, vertical scrolling, multi-finger scrolling) settings on idealpad laptops configured with Synaptics, ALPS, or Elan touchpad running Windows 7/8.1. Before adjusting Device Settings via Control Panel > Mouse (on Window 8.1, open Devices > Mouse & Touchpad > click Additional mouse options under Related settings), make sure the touchpad driver installed on the PC is the latest. If not, go to the support site to download and install
Applicable Systems:
ideapad
Operating Systems:
Windows 10

Windows 8.1

Windows 7
Solution:
Slide along the scrolling line (on some models, there will be no such line, but you can still slide on this area to use this feature) on the right of the touchpad to use the virtual scrolling feature, as shown in the following figure.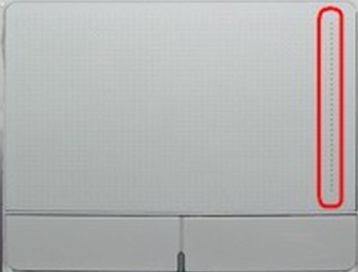 To enable touchpad scrolling, set the relevant options under the Mouse property window. To open this window, go to Control Panel > Mouse as shown in the following figure.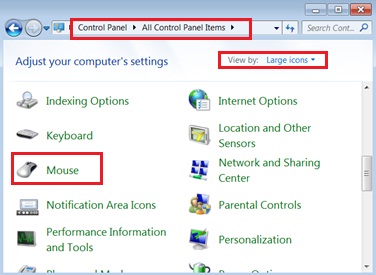 Refer to the following for different touchpad drivers installed on desktops.
Synaptics touchpad setting in Windows 7

Switch to the Device Settings tab, click Settings.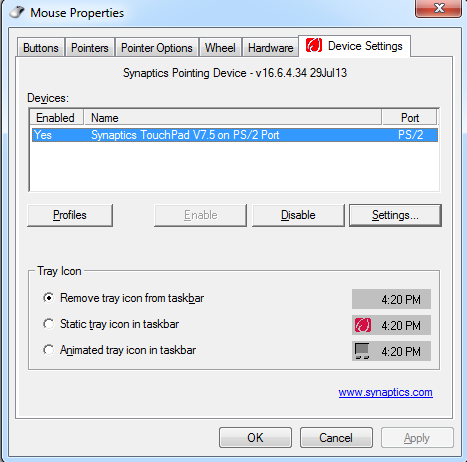 2. Check Scrolling and click Apply --> OK.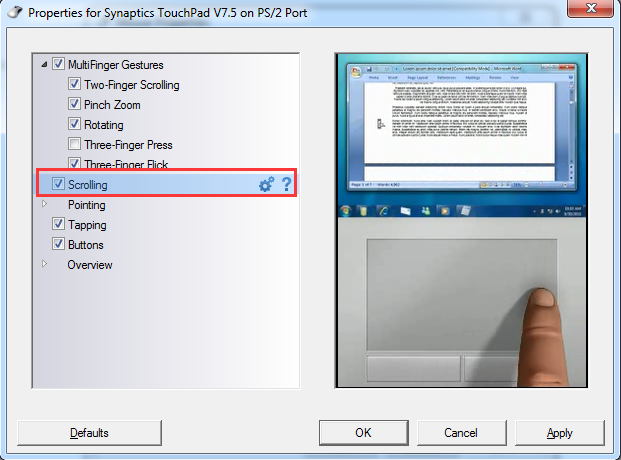 Synaptics touchpad setting Windows 8.1/10
Switch to the Device Settings tab, click Settings.
2.Click Multi-Finger and adjust the Scroll option.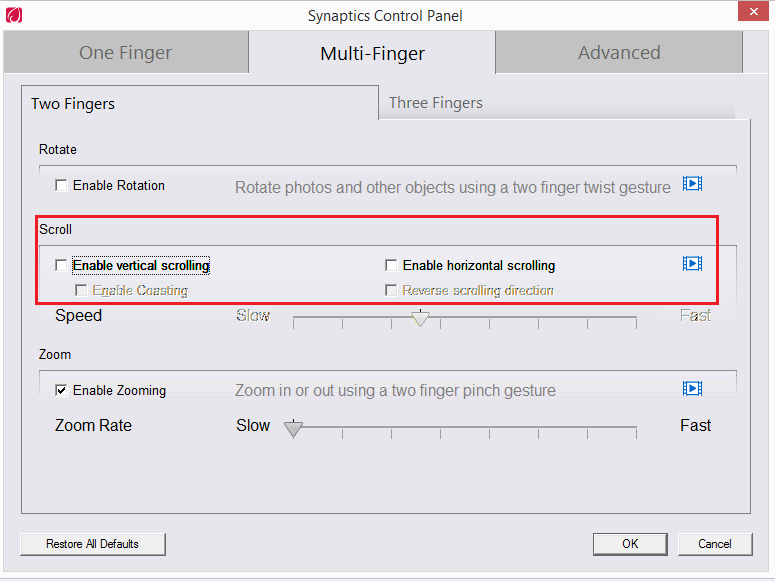 ALPS touchpad setting Double-click Mouse --> click the Gestures tag --> select Use scrolling.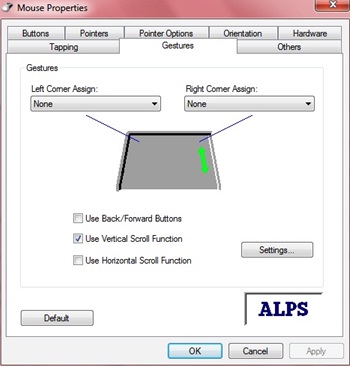 ELANTECH (KTP) touchpad setting